James' Story
James was born in Yokota AB Japan, on Feb 9, 1994. He had a routine C-section birth.

(My daughter Angelica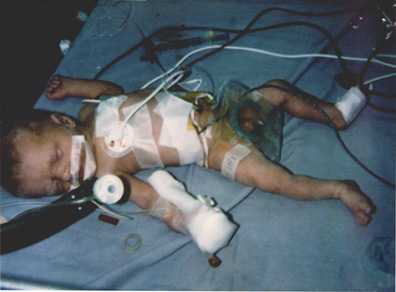 was 10 weeks early, so I had to have an emergency C-section. But that is a whole other page.)
It wasn't until James' 6 month well baby check that I became concerned about his development. He had missed one or two of the milestones that they ask about. He still wasn't trying to hold his bottle on his own, and he wasn't trying to sit up, roll over, or sit up. I didn't say anything, because I had always heard that boys were slower developing then girls were. At his 9 month check up, he was still behind on three milestones, so I had the pediatric nurse practioner do a Denver on him. He came up borderline on the tests so she referred us to a Developmental Specialist. After long testing including numerous blood tests, James was given the diagnosis of "Global Developmental Delay". He has been receiving Early Intervention Services(EIS) since 12 monthes of age. He has a Speech Language Pathologist(SLP)and an Occupational Therapist. His gross motor skills were/are still considered to be OK. He had some hypotonia, but that was helped by Sensory Intergration Therapy(S.I.T)
We moved here August of '96. We got James into the Blake Foundation's Childrens Achievement Center (ph.520-325-1517), in Jan.'97 (and have only wonderful things to say about it).

To be continued.....
This page is still under construction, construction started June 22, 98


This page has been visited times.